So we must be doing something right as we've been blessed with a happy child. Of course she cries sometimes and she can get grumpy but generally she's a bundle of giggles and laughs which is great.
However, as great as this might be, there is a downside to having a happy, chatty, laughing child. It's at 2.30am when she wakes up and decides that she's going to have a chat and a laugh with her stuffed elephant FOR TWO HOURS!!!
Yep, she didn't cry, she didn't want either or both parents, she just wanted to talk to the elephant at the top of her voice for two hours... I don't know what the elephant has done to deserve such an honour but I reckon she covered her whole life story in those two hours. It's a new cuddly toy and she's fallen totally in love with it. She's almost eager to get into bed now as it means she can see it, hold it and chat to it.
We stayed with my parents this weekend and we put Lia down for a nap before heading off shopping and when we left she was happily chatting with the elephant. I called my Mum an hour later and she said Lia was still not asleep but still just chatting away.
I don't understand what magic this elephant holds but it was the best £4 I've spent in mothercare... At some point I'll get a picture of it just in case all you other Mums want to see if it can cast the same spell over your child.
Here's a picture from the weekend. The elephant is not the one that is the subject of the post but she likes this one too. I'm not quite sure what she's doing to the crocodile though!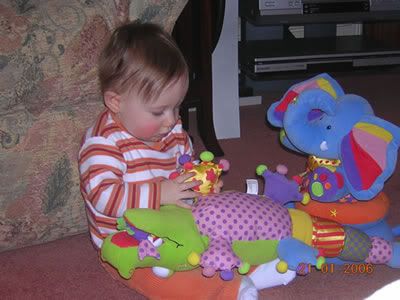 Oh and yes, we're thinking those red cheeks may just signal the mythical teeth are on their way...