In which the news is that nothing much is happening...
House move - still nothing happening. Our seller is the elusive woman and all we're waiting for is her to get on with things. We're ready to Exchange with our buyer but we're waiting and waiting and waiting for the paperwork from our seller. I've emailed her again today to chase but she's not responding to us, the estate agent or her solicitor so there's only so much we can do.
DH is talking about starting to look at other properties but I'm hanging on in there for a while as we've invested quite a bit of cash in this sale and I don't want to just give up.
It's disheartening though as I'd hoped we would be in the house by now - we've already missed two potential moving dates and the third (suggested by our seller) is likely to be missed too.
Stitching - I'm going great guns on documenting my stash (the link to my stash blog can be found towards the top of the right hand menu) and it's certainly focussing me on staying on the wagon!
I've spent a lot of time making bookmarkers from a Sue Hawkins kit. I made a load last year and gave them to all the women that came to our wedding - my English SIL asked me to make some more as her friends had been admiring them so I ended up making another 19! Here's a pic of 15 of them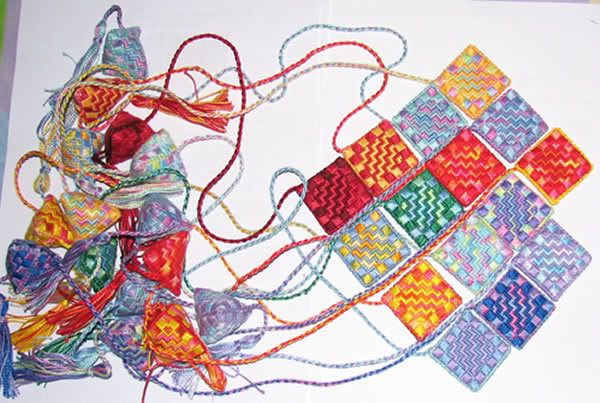 and here's a picture of one so you can see how they look not all tangled up!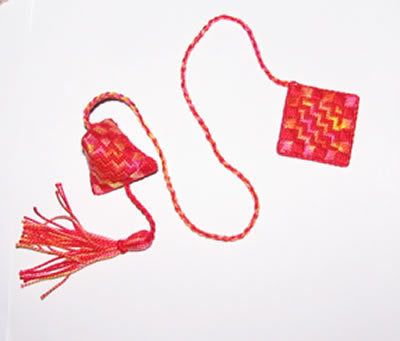 I've also just completed Bent Creek's Snowbound stitched on a piece of the sparkly blue fabric I dyed at the Weekend GTG. I changed the colour for the snow from DMC 644 to WDW Whitewash but other than that it's as charted. Apologies for the truly awful picture, I'll try and get a better one during daylight hours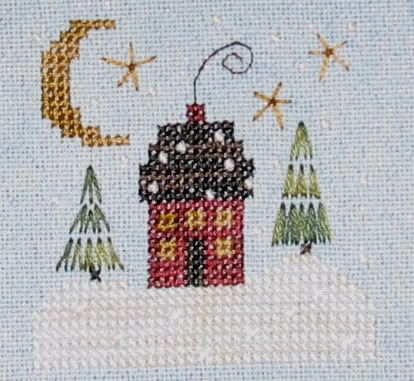 I'm currently stitching on a Tatty Teddy birth sampler for my Great Niece which is almost done - I'm just doing the backstitching which, as anyone out there who has done one of these desgins will know, is just awful!
The baby is now officially 9 days late and my Niece is showing no signs of producing anytime soon. She's had one 'stretch and sweep' and is due for another on friday if nothing has happened and an induction on Monday if the baby is still not willing to come and meet us. My poor niece is not only huge and fed up but July is birthay month in our family and she's desperately hoping that the baby doesn't end up sharing a birthday. She's missed her Mum's, her sister's is today, my brother (her Uncle, obviously) is next tuesday and her Dad is the 27th. Her BIL's is also today.
It's a family joke that we should all avoid having babies born in July or December but my niece obviously just forgot how to count. For me I have my Sister, Brother, Younger Niece, two BILs, one Step Sister and Two Nephews in July as well as the children ot two of my close friends. And of course Great-Niece whenever she decides to appear. December is DH, Elder Niece, English SIL, Step Sister and Two BILs.
I'm now determined that I'm going to have my next one in July just because it's a family tradition LOL.
In other less interesting news we bought new sofas (so we need to get in the new house by the end of September!) and we're looking to find a desk - we think we've found one but as we've only seen it in a catalogue we're going to see it IRL this weekend.
I'm eagerly awaiting the final Harry Potter book this weekend. I read the first book soon after it came out (but not soon enough to have a first edition to sell for loads of money) so was a fan before all the hype. I'm only really determined to read it asap because of all the spoilers that will be floating around. DH has promised to do childcare for the weekend (luckily he's not a reader) so I can immerse myself.
We saw the latest film last weekend and really enjoyed it. DH hasn't read the books and hasn't liked the films that much up until now but was really positive about this one. I've read a lot of comments about how much was missed out or changed but there is never, ever going to be a film of a book that is able to stick totally to the text so for me, as long as the essence of the story is the same, then the two should be enjoyed as completely separate entities. If you spend all your time looking for what's missing you're going to enjoy it less and less.
So that's about all the news from here. At the moment we're treading water until the house move is confirmed so I'm getting on with stitching as much as I can as I know there'll be much more to take up my time once that really gets moving.