I've had two stitching finishes in the last few days. Apologies for the slightly dark pics - I'll have to start taking pics during the day rather than under artificial light.
Anyway the first finish is The Cat's Whiskers' Red Desert Scissor Pocket (limited edition release from last year). It's only my second project that requires 'extra' finishing and I'm pleased that I managed to produce something I'm proud of. My real problem seems to be that I'm too impatient to take time to be careful and neat but I'm working on it.
So here's the front:
And here's the back: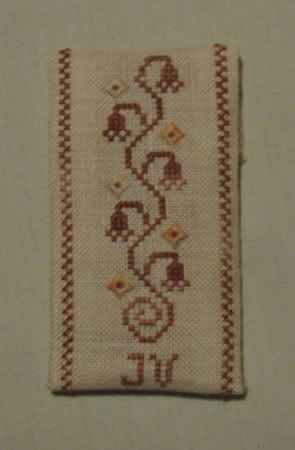 I stitched it on an anonymous piece of 28ct linen from my stash and it came with the Dinky Dyes threads required. My only change was to not stitch the date but to use my initials instead.
My second finish was a design featured in WOXS magazine a couple of months ago. I'm so useless at keeping track of things that I can't tell you which issue or which designer but it's perfect as a birthday present for my sister.
So as you can see hobby wise I've been quite busy lately. I'm also up to six books read so far this year which is great. Shame I'm not so diligent about the housework...
Lia's new bedding did arrive on Monday so that's what we'll be doing this weekend - I'll post a few pics when it's all put together and report on how she's settling in with her new sleeping arrangements.
I'm also planning on tidying up the garden as the weather here is absolutely gorgeous. Thankfully we had the garden paved last year so 'tidying it up' involves a bit of sweeping up and probably painting the fence. I was sad to have the garden paved but with other hobbies and Lia something had to give and that was it. Hopefully the next house will have a bigger garden and I'll be inspired to get back to that hobby too.