On Friday 1st June my baby was 2!
Not only that the previous Sunday was our first wedding anniversary.
Here's some pics of the birthday girl: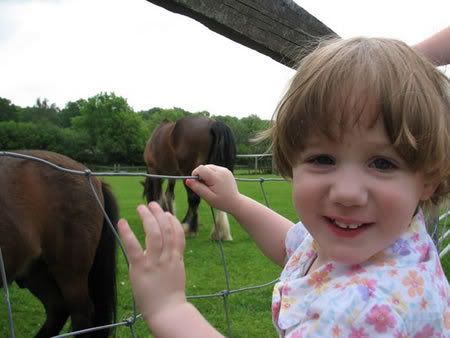 Meeting the horses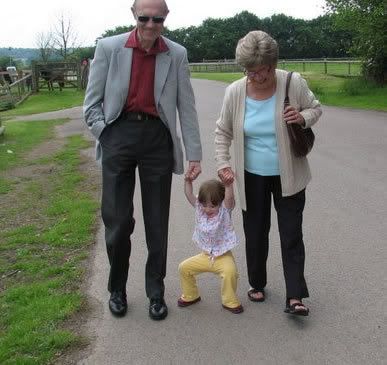 Jumping with Mama and Grandad
I'm so grown up!
We've actually had a week away from home - four days in Brussels and then we spent some time with my family and celebrated Lia's birthday with them before heading home and having friends to stay for a couple of days. All in all I'm glad of the rest now I'm back to work LOL.
Brussels was great fun. I spent too much money but as it's more than likely our only holiday this year I don't care. Plus the budgeting will be tight after we move so I thought I'd make the most of the gorgeous toy shops and kitchen shops we found before I have to feel guilty about spending money. Lia did very well out of us, we found two amazing toy shops where I could have bought one of everything but limited myself to a set of plates, bowls and a cup, a doll, a wooden shape puzzle, a set of stackable boxes and a small dolls house. Yes I know that's a lot but most of it has been put away for her to have between now and Christmas. Plus I used some money that the Greek relatives sent for her birthday so it wasn't all from us.
She also got spoilt with presents from others. Greek Yaya sent a set of wooden animal dominoes - not like the game, animal shaped pieces that you line up in a row and knock over. I'll take a picture when we get them home (we left most of the stuff at my parents), my parents gave money for new curtains and furniture for her new room, my sister and niece bought several sets of Early Learning Centre HappyLand toys and other relatives gave money.
I also bought a few things in Brussels for our new kitchen as it was hard not to. I know we've not exchanged contracts yet but we're still heading in the right direction and I'm so excited about the space I'll have that I want to fill it with pretty new things.
Talking of the house move, the surveys have been done and all is progressing as it should although our Vendor seems to like to take her time over things. She's had two jobs - engage a solicitor and fill out some forms. Both have taken her two weeks (and that's consecutive, so four weeks in total). However, now that's done we should be able to gee up the Solicitors to get on with the sale. Our hopeful completion date is now 16th July
Coincidentally, not only has my brother already moved house this year my Mother and Step-Father are now going to be moving too. They're buying a new-build flat not far from their current house but as well as downsizing to a more managable size for two septagenarians they'll be right next to a bus route instead of a mile up a country lane.
The only downside to them moving is that now my Mother is attempting to get rid of all her junk (sorry, unwanted items) onto me. I made DH promise not to say yes to anything while we were there and I've told her she'll have to wait until we're in the house before I commit to having anything. Don't get me wrong, there's things I'm more than happy to have but until we actually live in the house we won't know for sure what we need.
I'm starting to worry about packing. How come we manage to accumulate so much junk? I'm quite glad we'll be budgeting hard in the new house as I need to use up the Stash I have before getting more (both stitching and papercraft) and I'll have to stop bringing more into the house. I'll also be gaining a new hobby of gardening so there'll be less time to devote to my other hobbies, not more.
We had several long talks about what we want from the next few years and we've got three long-term goals:
1) Pay off as much extra on the mortgage as we can
2) Do a loft conversion in the new house to make a fourth bedroom
3) Have the holiday of a lifetime to Kuala Lumpur, Oz and Disneyland
And of course, baby number two is the next work in progress after the house move.
We're lucky in that we should be able to knock several years off our mortgage by overpaying. We can't afford for me to now work right now but with me working we have spare for overpayment. I'm hoping that I may be able to drop down to part time at some point so packing extra cash into the mortgage now is a good plan. The good thing about us overpaying the mortgage is that the money comes off the capital and interest but sits separately so we can get at it if we need to.
As for the loft conversion, we need to get it priced up and then work out how long it'll take us to afford it. It's not necessary straight away but we'd like to be able to do it in around five years (cue laughter!)
Finally, the holiday is something that will be done when the kids are old enough to appreciate it so again, we're looking six or seven years in the future at least. I've always wanted to go to Oz (and was close to booking a ticket before finding out I was expecting Lia) and DH loved Kuala Lumpur when he was there in 2005 and wants to go back and take me. I added Disneyland as, if we're going that far, we may as well come back via LA and really finish off the kid's holiday in style
So, with all of those things PLUS a second baby there'll be very little spare cash floating round the Family V. This means I'm going to bow out of the 50 project challenge and go full time onto The Wagon. I've talked about it before but now it's essential. I'll just have to use birthdays and christmas for stash acquisition.
So that's you caught up with us. I'm away on a jaunt this weekend leaving DH to look after Lia for four days - it's a weekend GTG of stitchers (around 20 of us) which should be great fun. After that I'm back down staying with my parents as I'm booked on a four day course in London and they will have Lia for the days. It's useful as it means DH gets a break after exhausting himself as a sole parent.