So did you all have a good festive season?
Christmas chez Family V was quiet and pretty stress-free. Lia had great fun with the pressies - she hadn't been excited at all up until the day itself (I don't think she'd really grasped the concept of Santa and Gifts) but she soon worked it out when presents were being passed out LOL.
As you can imagine she was very spoiled - we asked the Grandparents for money to put towards a wooden playhouse for the garden but even so she ended up with about 25 parcels under the tree. The parcel opening was staggered throughout the day to make sure she got a chance to play with things. Her two favourites were a junior etch-a-sketch and a dress up dolly (very clever - it has plastic clip on clothes so they a) won't break and b) can be put on by small hands. Now I just have to hope that they don't c) get lost LOL.
Other than those gifts she got a Pingu house playset, several books, some jigsaws, 2 Pingu DVDs, a cuddly polar bear, some clothes, a bracelet, a colouring book, a bath toy and a game.
We also braved the sales yesterday and got her quite a few items of clothing (from the Pumpkin Patch - sales in there bring the clothes down to reasonable prices!) and a few toys that will be put away for her birthday.
DH is happy - it was his birthday yesterday so he had double pressies. His main present was a DS Lite with the accessory kit and three games (Zelda, Hotel Dusk and 42 Classic games). He's just about to start a new job with a longer commute so the DS should keep him happy on the train.
As for me, I was definitely spoiled. I'll admit that I chose most of my gifts (or gave damn good hints!) but at least it meant that I got what I wanted. My gift list was:
A clover mini iron (great for seams)
Bothy Threads Row of Christmas Fairies
Stitchin'Spirations Lost in a Blackwork Maze
Two skeins of Dinky Dyes Illawong
Ink Circles Kaleidoscope
Left handed dress making scissors
Pirates of the Caribbean 3 DVD
A kit to make these two cuties: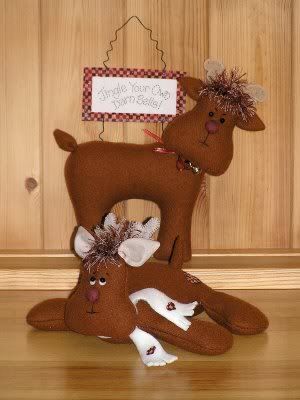 They're called 'Too Pooped' and 'Jingle Your Own Darn Bells' LOL
Oh and not forgetting a brand new sewing machine!
After much discussion with DH and the sewing machine man (one of the owners of the shop that holds the Quilting classes) the decision was made that I should get a new machine rather than spend money repairing the old one. The cost of repair was likely to be heading towards half of the cost of a new machine and, given that the old one is seven years old, DH felt it better to get a new machine that is covered by a warantee.
So we have ordered a new machine from Brother. My old one was also a Brother so the extras that I bought from the old one will fit the new one which is cool. The only bad thing about the order is that it is placed directly with Brother and they deliver to me so I'm not sure exactly when the machine is going to arrive given Christmas working hours (we bought the machine on the 22nd). Still, it'll arrive soon I'm sure.
So that's our festive news. We're having a few friends join us for New Year's Eve and then it's back to business as usual.
I intend to use the long dark evenings to get on with my Stitching plans, especially as DH may be home later than usual once he's started his new job. I keep telling him he's lucky to have a wife with hobbies who can amuse herself while he's away ;)