Despite the weather LOL.
L, a fellow stitching and quilting addict joined us for the weekend (I won't link to her blog because she hasn't updated it in MONTHS - hint hint) and on Saturday we went to Swindon to meet up with another friend for lunch.
We visited a local craft centre on the way which wasn't that fantastic as a lot of the shops have closed down but we did get a few bits and pieces including a fab Charlie and Lola bag for Lia and also a cute toy watch for her as she's obsessed with telling the time at the moment. We also went round the Designer Outlet Centre after lunch and I splashed out on a new pair of shoes (well they were 50% off and very comfy).
Sunday we had planned to go to Legoland if the weather was okay so when we woke up to a wet and windy day we were very disappointed. However, it didn't take long for excitement to take over from common sense and we talked ourselves in to going anyway... We had some vouchers for bogof tickets which is the only way I'd contemplate going as one adult ticket costs £35!!!!
Great fun was had by all, DH and L went on more rides than me because Lia was 4cm too short for some of them - I'm not complaining as I have a tendency to get sick on rides anyway. We did go on the really slow boats as a family though and here's a pic of us in our attractive rain gear - yes DH and Lia were having a bit more fun than me!
Lia then had a go on the mini cars driving area - she was really getting into the whole thing but she was terrible at steering - she had to be rescued about five times as much as any of the other kids.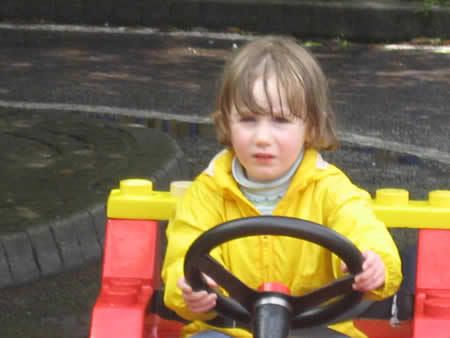 She took it all very seriously but she was also a lot more interested in what was going on around her than where she was going. Still she had an absolute blast and she got her driving license at the end of it.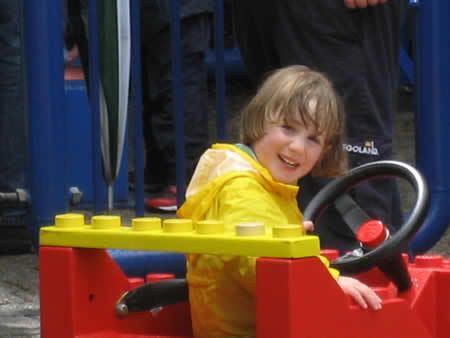 We did have a period of around an hour and a half where the sun came out and we dried off and warmed up enough to sit down and have an icecream. Unfortunately I chose to add some jelly tots to Lia's icecream and we had our first experience of her high on E numbers. Around 15 mins or so after she finished it she turned into a total brat who was ignoring us, yelling and crying and then, when we got home she was totally hyperactive. Initially I put it down to her being tired but back home in our normal environment it was like she'd taken drugs, she was hyper, absolutely deaf to our attempts to calm her or tell her off and basically just bouncing off the walls.
She very rarely has sweets of any kind but she will definitely not be having anything like that again.
Here's one final pic of her (thanks for all the pics to L, our official photographer for the weekend). Lia and Neh No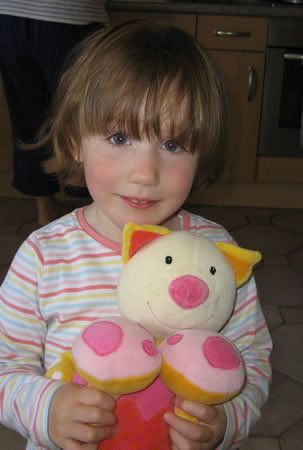 The weekend ended with us glued to the TV watching the Wimbledon Final. I'm a big tennis fan and I love Roger Federer so was disappointed that Rafa won, but what a match! I don't remember ever being so on the edge of my seat for every single point. Fair play to Nadal, he has worked so hard to raise his game over the last three years to get to the point where he can beat Federer on grass and he does play sublime tennis but as John McEnroe said this week Federer is the 'most beautiful tennis player God has created'.
Stitching wise I've been working on my Cirque des Cercles again as it finally got round to shouting at me louder than my other WIPs. No pics as yet but I'll get something before the end of the week. I'm going to keep on with it this week and then devote the next couple of weeks to getting the Victoria Sampler design finished so I can get it framed for my Sis and BIL's anniversary at the beginning of September.
I am going to spend some time quilting this week too - I hope to get some projects finished off so I can start some new ones with less guilt!