Whilst I was away I was nominated for the Brilliante Weblog Award by
Sam
and
Jennifer
so thank you both. I'm always a bit wary of this kind of thing (I'm not sure this blog is that brilliante LOL) but I do like the fact that it gives people a chance to highlight other blogs (I have to nominate other blogs, it's part of the rules) and so others will maybe follow links to blogs that may inspire them.
So my nominations are:
A Celtic Stitcher
Karoline's Corner
Black Belt Stitching Wizard
Obsessed Dragon Stitcher
Simply Stitching
All of the above ladies inspire me with their fantastic work and my wish list grows pretty much every time I visit their blogs. Go check them out but be warned, there's some gorgeous crafting going on out there!
Edited to add, I'm supposed to put the award logo on here and also the rules - see how useless I am at this stuff?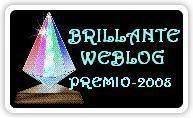 The rules for this award:
1. Put the logo on your blog;
2. Add a link to the person who awarded you;
3. Nominate at least 7 other blogs;
4. Add links to those blogs on yours;
5. Leave a message for your nominees on their blogs.