Yes No 1 Dort is 6 today - where did those years go?
We've had a lovely day - the four of us went to London and did some shopping - her grandparents gave her money so we let her spend it on her choices (with a bit of guidance of course LOL) and she bought herself some new Crocs (pink!) and a Rapunzel doll, a charm bracelet and a couple of toys (Zoobles and Littlest Petshop).
We all had lunch together and then DH brought Connor home while I took Lia to her surprise present from us - The Wizard of Oz! Lia loved it and I thought it was pretty good - definitely not the best I've seen (you want an Oz story, go see Wicked!) but the staging was absolutely amazing. My biggest issue was that Michael Crawford is seriously under-used but the Tin Man, Scarecrow and Lion were great and the Wicked Witch of the West was amazing.
After that I took her to Hamleys (7 floors of toys) where we spent two hours looking at toys, having our faces painted and our nails done. Total girlie bliss. Then it was a Macdonalds tea and a quick hop on the tube to see Big Ben (her wish) and then a walk along the Thames to Waterloo station and the train home. We left home at 9am this morning and the two of us got back at 10pm tonight!!!!
We've just chivvied her off to bed and I won't be long as I'm at work tomorrow. Given our late return we haven't done the draw for the giveaway but I will do it tomorrow I promise. Here's a few pics from the day
Birthday girl this morning: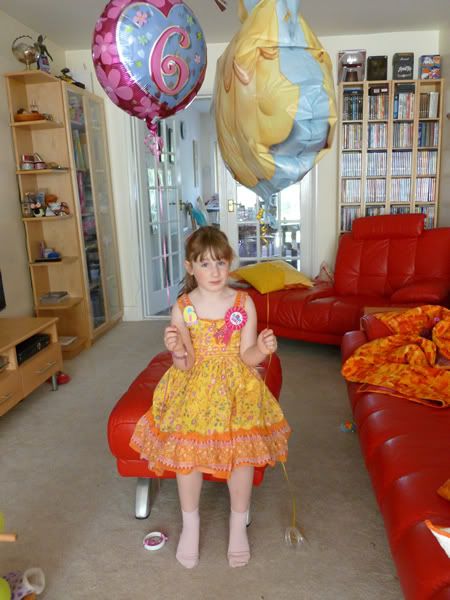 At the tube station (yes Connor is walking now):
My boys!
How big is Big Ben really?
Face painting