Again, these have been done by
Karen V's Finishing Service
so I can take no credit for the finishing other than saying yes, your choices of how to finish my stuff are fab LOL.
TW's Tempest in a Teacup pinkeep
The Trilogy's Secret Snowdrift ornament
CCN's Joyful Summer wall hanging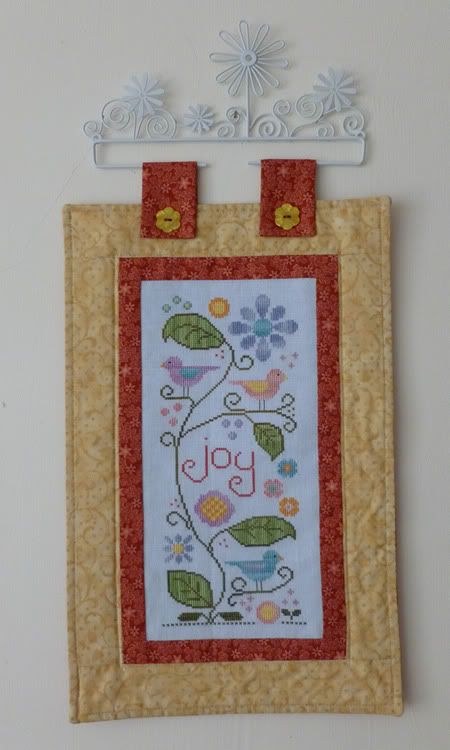 I had the hanger in my stash - I'm not sure if it's a bit small but it'll do for now for sure. To be honest I'd totally forgotten about it otherwise I'd have asked Karen to put the hanging loops a bit further apart. Still I can always do that myself at some point.
Yet again I'm really pleased with the results and two of them are already hanging on the walls. I'm now trying to decide what will get sent next. I'm hoping to get a few more batches done between now and Christmas as I think after that money will be a bit tighter. Plus I don't have that many smalls left to have made up so it'll be more a case of stitch something and then send it to Karen.
I also received my invoice from Drema at Needlecraft Corner in the post today. No we won't discuss the amount, but it does mean the package should arrive in the next few days. Not only that I caved, emptied out my dragon money box, and ordered a Layer Cake and Jelly Roll of Moda's Trick or Treat. Naughty I know but I also know I'll regret it if I don't and then can't get them.
Finally on the stitching front, I should have a fourth happy dance this month as I'm very close to finishing my Shepherds Bush Here we go a Haunting. One more evening of stitching on it and it should be done. I'm also pretty sure this will be in the next batch I send to Karen.
It's been really busy here the last week and a half. Since getting back from visiting my family we've been all over the place visiting friends and tomorrow our Goddaughters are coming for a couple of days and I'm bravely taking them and my two to London for the day on Thursday! My Aussie cousin is due to spend the day with us on Saturday (she's on a whistlestop tour) and then Sunday DH is running another half marathon. Connor's back at nursery on Monday and Lia at school on Tuesday when I'll be back at work.
I think I'll be going back to work for a rest LOL.