Last Saturday we went to
Leed's Castle
in Kent as there was a fundraising day for the
Chicks Charit
y that included a kite flying world record attempt (the largest number of kites flying simultaneously). DH is a recent convert to the fun of kite flying so he was eager for us to join in.
The weather was good to us (although not that good for kite flying as there was very little wind) and we had a lovely time as Leed's Castle is one of the most beautiful castles in England. Whilst we were there Lia got her face painted (she insisted on a pink cat design)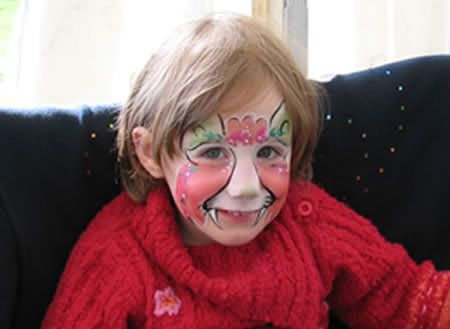 It was really great but she decided about half an hour later she didn't want to be a cat and she rubbed most of it off leaving herself with black smudges - a very attractive look!
They have a large number of black swans at the Castle, descended from ones brought over from Australia so I told Lia that when they honked they were actually saying 'No worries Mate!' just like our Aussie cousins taught Lia to say when they were over last month. Cue Lia repeating this phrase to the bemused birds for the rest of the day and providing amusement for a group of Australian tourists.
The record attempt wasn't successful (472 kits flying but they needed over 600) but it was still a lovely day out and if you ever find yourself in the vicinity of Leed's Castle then do consider going as it's one of the best places I know to have a picnic on a sunny day (I'd definitely recommend taking your own food, like most places in England a couple of sandwiches costs the earth...)
On the Sunday it was my Sis and BIL's Anniversary party which was great - an opportunity to catch up with family we don't see very often and they seemed really happy with the sampler which is good.
This weekend we're just having a quiet time at home as DH is off to Greece on Wednesday for a week. The weather here today is glorious and here's hoping it stays that way for the whole weekend so we can enjoy it.
On an entirely different topic, thanks Jennifer for the link to the Stitcher's Report card. Unsurprisingly others seem to have had similar issues with the stores I mentioned and I shall make my complaints there too. On the bright side one of the parcels I was waiting for finally arrived today which is great. I've chased again about the book and have left a phone message at the LNS asking for someone to contact me with an update on my order.
Watch this space...