Well he'll be nine months old tomorrow and our lives will be getting into a whole new routine from Monday as I'm back to work and he'll be at nursery.
In honour of this milestone I thought I'd show you a couple of recent(ish) pictures so here you are: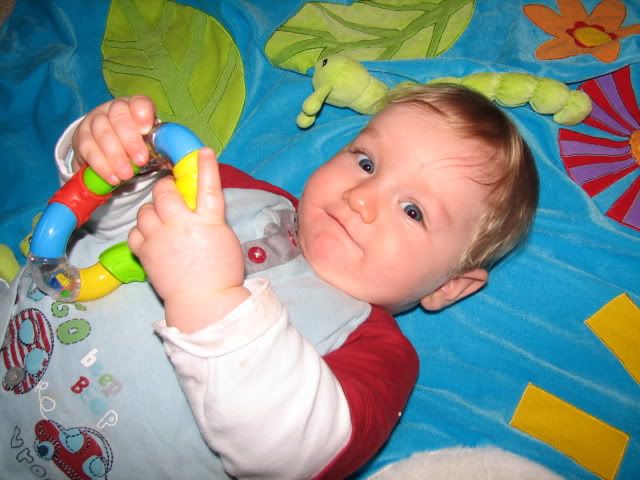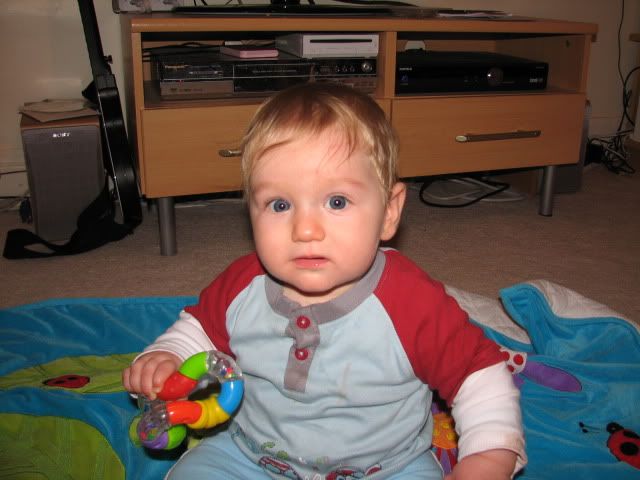 I've just dropped him at nursery for his first proper taster session (we went yesterday but I didn't leave him). He's there for an hour today and two hours tomorrow before starting full days on Monday. Most days I'll be dropping off and picking up on the way to and from school with Lia so his day there will start at 8am and finish at 3.30pm. He really enjoyed being around the other children yesterday so hopefully he'll settle in very quickly.
Just before we left this morning he sat himself up for the first time. He's been almost doing it for the last few days but just not pushing himself to go from leaning to upright. He's been crawling since New Year's Eve and is getting better at it every day - he has an absolute fascination with cables so my time is now spent herding him away from them and nagging DH to move them out of his reach (we have way too many electronic gadgets).
He still only has two teeth (top middles) but I can definitely feel the bottom ones in his gums and he's dribbling like crazy so I imagine they won't be long. Also we're in the middle of his first proper cold so between dribble and snot he's a very damp little boy at the moment LOL. He's pretty much okay in himself with the cold but he's had a couple of disturbed nights due to coughing which has come as a shock to all of us (well except Lia as she never wakes up).
Generally he's just a happy little soul who eats, plays and sleeps well. He still sucks his thumb when he's tired which is totally cute but I'm sure in the future I'm likely to post about how hard it is to get him to stop. All in all we've definitely been blessed as he's the best gift the three of us could have wished for.