I did this piece as my monthly small start:
It's Eliza Jane's Needlekeep from Brightneedle. I used the only piece of 32ct fabric I had that was vaguely close to the charted fabric - it's a hand-dyed opalescent but I don't know where from as I rescued it from a friend who hates opal fabric.
Obviously I now have to finish it properly. I think I'm going to try and have a 'finishing weekend' every month so I get one or two pieces done at a time.
Here's another couple of WIPs. My GFJ start from Stitchin'Spirations - Lost in a Blackwork Maze (I'm still considering the colours)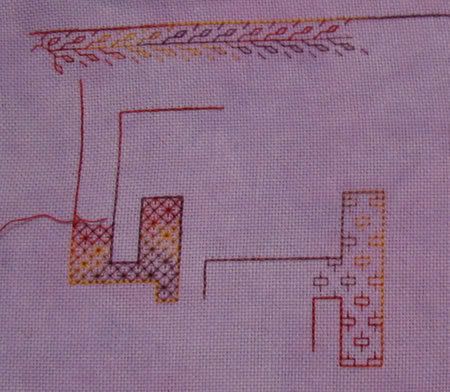 And here's one of the three snowmen from Stitching Kitty - I started him just before Christmas and I'm going to work on him a bit - alternating with my Newton's Law WIP