Okay, I'm not going to moan about the car any more. It's not 100% sorted but hey, life moves on right?
This weekend DH and I are going out not once, but twice! My parents are over to babysit so we're going to the cinema to see Burn After Reading on Friday night and then to London to see Spamalot on Saturday night. We've also got vouchers from one of the major supermarkets here in England that are enough to get us dinner both nights too. After the last three weeks I think we deserve some R&R.
Here's a pic of Sesame, our latest addition, she's a real feisty little thing, no being timid around the bigger girls, she was straight in there asserting her authority! I think DH was right, the three of them are much more animated and playful than Toast and Crumpet on their own.
On the stitching front I've completed the Just Nan Boo! tin and am working on the needlebook. I've also finished SamSarah's January Baubles: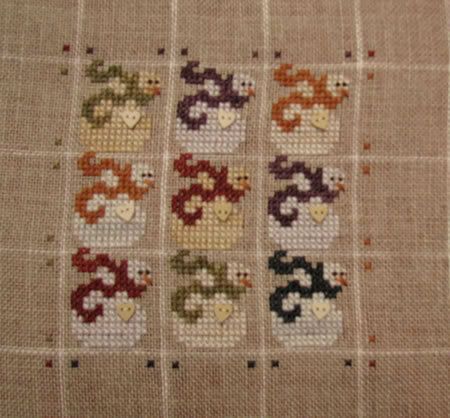 It's as charted except I changed the colours a bit as two of the snowmen were charted as being stitched in 'Straw' which, quite frankly, made them look like they had been built from snow that little boys had been writing their names in first!
And finally here's my Just Nan Scream House WIP ( a bit wonky) which I'll be getting back to after I've completed the Boo! Needlebook: