Those readers who don't stitch should probably skip the first bit of this blog post as I'm sure you'll find it really dull. For those who do, have you seen the Nashville releases?
I'd pre-ordered the
Lizzie*Kate ABC Lessons
chart sight unseen as I liked the sound of it and boy am I glad I did as I love it. I intend to slip it into my rotation when Snapperbets is finished.
I also pre-ordered
The Cat's Whiskers 'Scissors by Any Other Name'
which I intend to do in my own colourway as the charted colours are so not me.
Of the other new releases I like the
Quaker Seasons of Friendship
(I have no idea why, it's not my usual style at all!), I think I like the new
Just Nan tin
- I like the tin itself, I'm not too sure about the stitched part. I'm also not sure about the
Just Nan Harmony Sampler
(matches the tin) but I think it's because the only picture I've seen is the one I've linked to and it's not that clear.
ABC Stitch Therapy
have a pretty comprehensive list of the releases if you want to look at more.
I think that unless I fall hopelessly in love the Just Nans when I see better pics of the sampler I'll leave my purchases to just the two I've already ordered. However, I'm sure there's more to see so I reserve the right to change my mind LOL. I am also glad that I'm not head over heals for the
new colours from Picture This Plus
- a bit too subtle for my tastes!
I'm finally starting to feel better - the only day I managed to get into work last week I ended up heading home early after throwing up. I've been quite woozy ever since - headaches and throwing up - which has meant not much crafting. I have however completed two and a bit letters on Snapperbets and last night put about 20 stitches into my Charlie is Born WIP which is my focus piece this week.
I also did some work on my quilting project - The Quilter's Friend Sewing Kit. I've found a pic of the finished piece to show you -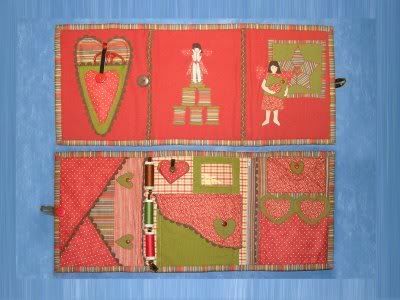 I bought the full kit at the NEC Festival of Quilts last year so I'm doing it in the colours above. I bought the kit because there was a lot of fiddly bits in it that I wasn't sure about so I thought that I could make it once in this colourway and then, when I'd recovered, make it again in a more 'me' set of colours.

The only change I'm making is that I'm not putting on the Angel on the front panel (top right). I'm going to put the quilt star in but I'm going to applique my name on the front instead of the Angel. I'm still undecided as to whether to put the other Angel in - the one sitting on the cotton reels - but I think I will.

My progress so far is that I've completed the left hand side of the inside (so bottom left section). You can't see from the picture above but it is a zipped pocket (my first zip!) just to the left of the cotton reels, the striped bit is another pocket as are the triangular bits. I've also completed the large pocket in the middle inside section and the little heart needlekeep which is top left above the middle pocket. I've cut out the parts for the picture holder that is next to the needlekeep and hopefully will get that put in this week.

The right section of the inside has another zipped pocket (zip hidden by the ric rac) and two more pockets that need to be made up! It is a really challenging project but I'm enjoying it a lot as I'm learning lots of new techniques - hopefully I'll manage to finish it up this month.

In other news DH finally spoke to the woman who runs the Greek Church near to where we live about Sunday School / Greek School (I've been nagging him for weeks) and he's going to take Lia this Sunday to see. Apparently they usually start children there at the age of four so Lia's a bit young still (she's four in June) but as long as she doesn't disrupt the others she can join in.

It's actually a school for Greek rather than a Sunday School. Language students from the Uni teach the kids right up to GCSE level and they also can sit the exam which is great. I intend to go with Lia so I can work on my Greek too and the plan is that Sundays become Greek day in our house so we all speak it all day. It's about time I learned a bit more!

I tell you my life is more and more like My Big Fat Greek Wedding all the time - I can just hear Lia whining 'I don't want to go to Greek School...' LOL