So here's another WIP that I hope to finish this year, a little more ambitious than the needlecase but still doable I'm sure. It's The Flock from SamSarah and it's stitched on the recommended linen with the recommended floss.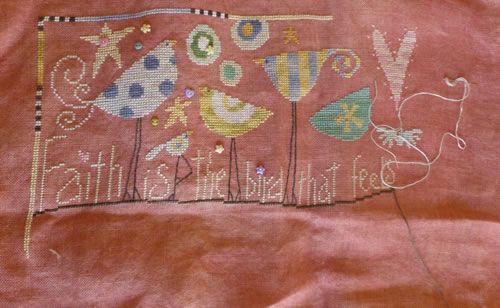 I'm also thinking that I'm going try and stitch at least once on every WIP this year. What is extremely embarassing is that I'm finding projects that I haven't put a stitch in FOR YEARS and they are all designs that I still love so giving each one a bit of TLC might inspire me to finish them up.
My biggest problem is they are all quite large, some of them heading into BAP territory and I tend to get bored after a while and move on. I absolutely refuse to try a rotation, it's not something that works for me really, but hopefully I'll be able to photo a large amount of these WIPs again at the end of the year with some serious progress.