Finally I've stopped talking about the party bags and started making them!
Here's a pic of the first one (apologies for DH's luminous running jacket in the background!):
And here's a pic of the bottom of the bag: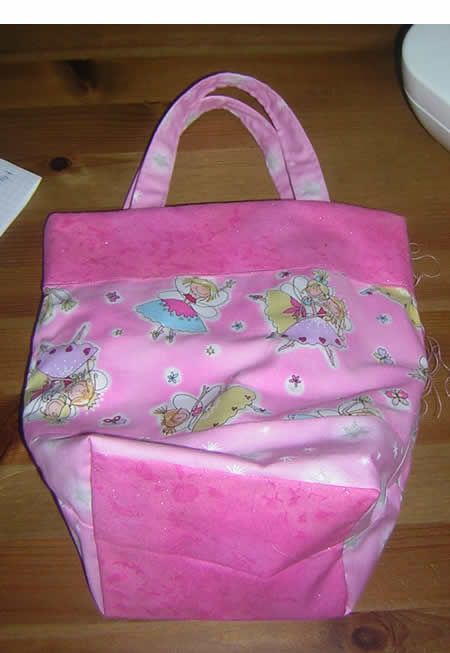 The threads you can see hanging off the side are just from the last bit of sewing around the top band and I just need to tie them off properly. As you'll see from the pic of the bottom I messed up the seams of the base just slightly (top left) - my own fault but I know why it happened so I'll be more careful on all the rest.
Finished bag size is approx 9 inches high.
I'm using a pattern from a book called Simply Christmas by Sarah Wellfair. I've adapted it slightly but only for ease of making it up as I have a fair few to make (22 of this style!). I've not bothered with wadding and quilting and the top band is supposed to be hand sewn around it's base but I've machined it. Oh and she hand sews the handles on at the end but I've sewn mine in when stitching in the lining and top band.
I've cut all the fabric for the rest of the bags:
The lining is also all cut so now it's a bit of a production line! I've used all the pink fabrics I could find in my stash so there's a real mix - hopefully no two bags will be exactly the same.
It's about 45 mins to an hour per bag so I'm hoping I can get two or three done a night now they're all cut so fingers crossed I should have them done by the end of next week. I'm using a much less complicated pattern for the boy bags - they'll be one fabric draw string bags and there's only 12 of them so they should hopefully stitch up even quicker.