I've been stitching on this one for the last week or so and enjoying it. I remember why I stopped before, it was because I had run out of Maple Syrup and discovered that the new skeins ordered were much much lighter than my original. I was convinced I'd had an extra skein to start with but it never appeared so I must have imagined it. A friend was good enough to send me some that she had but it still wasn't as dark as the original but a better match than the ones I bought.
So I'm in the position that I'll probably have to frog a huge section of the border as I've never found another skein of Maple Syrup as dark as the one I used originally. However I have decided to completely finish the design and then see how I feel about how noticable the colour change is before making any rash decisions.
Enough of all that here's how it is now: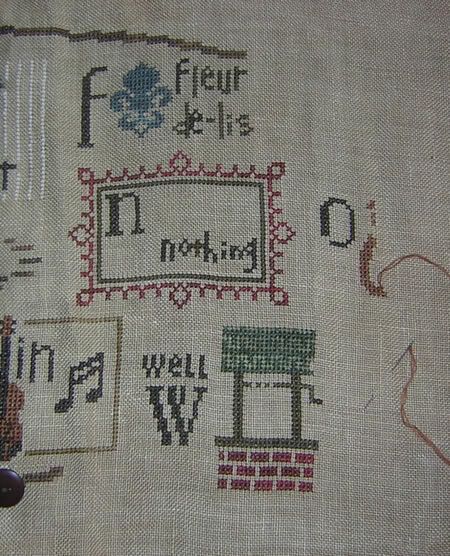 And here's how it was before I picked it up:
Not exactly like for like pics I know but you can see that the F and N were only just started and W is entirely new work.